Sharing Audio,Video and Pictures using UPnP and DLNA
DLNA (Digital Living Network Alliance) is a standard used by manufacturers of consumer electronics to allow entertainment devices within the home to share their content with each other across a home network without a complicated configuration process.
I like to use free DLNA servers to share my media files (Video,Music and Pictures) across the devices in the home. So far my favorite DLNA servers are TVersity and PS3 Media Server. TVersity can also be accessed for mobile devices like iPhone through web interface.
These media server work very well and have built in run time transcode capabilities. If the DLNA client doesn't support a media format than DLNA server trans codes the file to the format compatible with DLNA media client.
PS3/Xbox360 have built in DLNA Media Clients. Recent Televisions also come equipped with DLNA clients.
Lets configure few DLNA servers in out home network and access the media through PS3.
Enable UPnP On the Gateway Router
DLNA media clients discover the presences of Media Servers Internet automatically through UPnP Protocol. In oder for UPnP to work you must enable UPnP on the Wireless Gateway router.
On our D-Link DIR-655 enable it in Advanced/Advanced Network Page as shown below.
Enable UPnP on DD-WRT/Wireless Bridge
You also need to enable UPnP on all of the Wireless Bridges. Typically UPnP setting is found in NAT/QOS advance settings on the routers. Here is snapshot of UPnP settings on our DD-WRT router.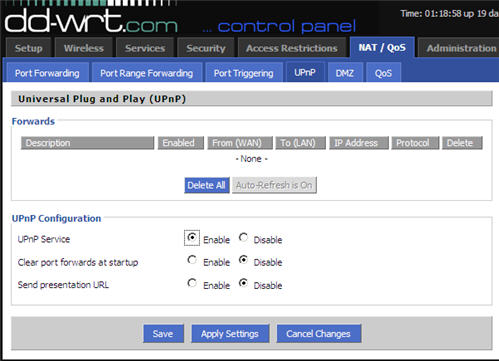 Download, Install and Setup DLNA Media Server
Download the TVersity server from here. During Installation allow the configuration Wizard to  open windows firewall setting for Media Sharing. Windows firewall may block UPnP and Media Sharing depending upon how its configured. You must also Install TVersity Codec Pack for transcode features to work.
Start TVersity Media server Service and Media Server. In the Sources/File Systems/ Sources. Add the folder you want to shared on the network.  TVersity will scan the folders for Audio,Video and Images files. Once the scanning is complete TVersity is ready for action.
You can use any other DLNA server. DLNA servers available with NAS (Network Access Server) also works flawlessly with this setup.
Viewing Media  On PS3/Xbox
PS3 and Xbox has built in DLNA media clients. All the DLNA servers will be detected automatically.
On PS3 you have to enable  Network Settings/Media Server Connection and UPnP during Connection Settings.
If everything goes well you will see all the DLNA servers.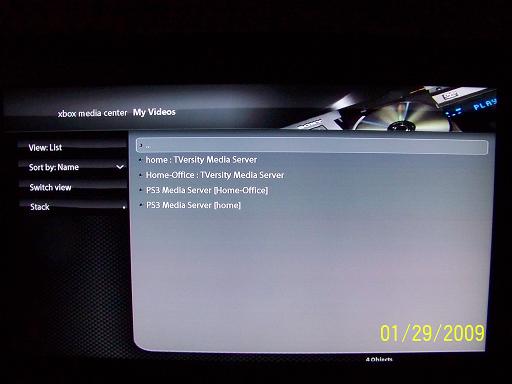 Viewing  Media on Mobile Devices/iPhone
On iPhone open the Browser. On the Browser address window type  <ip address of the server>/41952 example 192.168.1.7/41952. You will see TVersity page configured for iPhone Screen.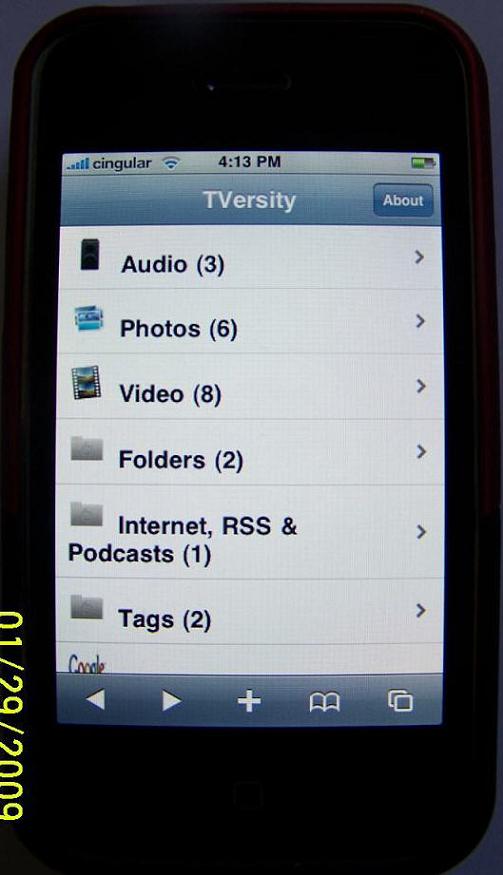 Viewing Media on HTPC or Any PC
Windows doesn't come with built in DLNA Client or Media Viewer. There is very good Open Source application called XMBC Media Center with I like very much.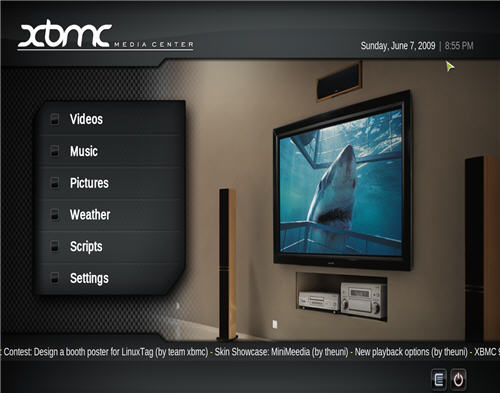 XMBC works with our TVersity and PS3 Media DLNA servers quite nicely.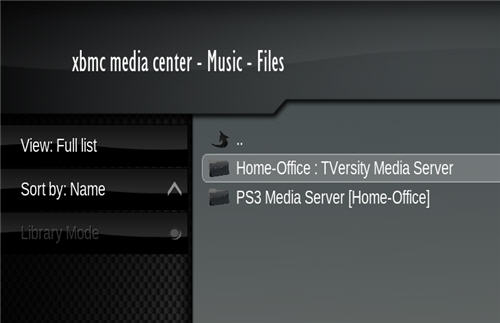 One note about sharing good quality videos across the network. The streaming quality of your video will depend upon the speed of your network. And the speed of  the network will depend upon the quality of your routers and signal quality between the routers. If your video streaming performance is not satisfactory, you may want to consider PowerLine Ethernet or MOCA. For details on this option please visit Powerline Ethernet for home networking.