Improving wireless coverage in home using wireless repeater bridge
Do you have problem with WIFI signal coverage in home? You have good signal strength is some areas of home and flaky signal in other parts.  Poor wireless signal strength results in slow data speed and lost connections. In this section I will show you how to improve signal coverage in home by adding one  more router to your existing wireless router.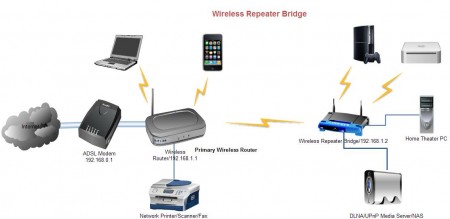 Signal distribution in the home can be greatly improved by placing the wireless router at a central location in the home. However it's not always possible to keep the wireless router in the center of the home because, in many cases router is directly connected to a cable or dsl modem. Cable/dsl modem needs to be located where phone or cable port is accessible.
There can be many possible configuration to improve signal coverage through out the home. It can be done by running two wireless routers in access point mode and connecting them with wired Ethernet cable. However this is not an option for most homes because it needs physical connection between two routers.
It's still possible to connect two wireless routers as if they are connected through wires. Each router can connect to several WIFI clients in addition to clients directly connected to their LAN ports.  For this type of connection one of the routers needs be running latest DD-WRT firmware (v2.24). DD-WRT supports wireless repeater mode starting from firmware version 2.24. Wireless repeater mode lets wired and wireless clients on the secondary router to connect to primary router through inter router wireless link as shown in the picture.
Wireless Routers ,Wireless Repeater Bridge
In order to improve signal coverage one of the routers must act as wireless repeater.  Other router which is the primary router in the picture can be any normal router. Router with wireless repeater bridge can connect its local LAN devices along with wireless clients to remote primary wireless router. Wireless repeater bridge is  not commonly available feature on most of the routers . You need to make sure that the router you are considering supports it. If the your router is capable of running DD-WRT open source firmware, you can use it as a wireless repeater bridge. Here is the list of some of the popular  wireless routers which can run DD-WRT Firmware. Follow the instructions given  here to install dd-wrt firmware on the wireless router.
Setting up wireless repeater bridge using dd-wrt
Follow instructions below to connect two routers to improve signal strength in the home.
Step I: Setup primary wireless gateway router
Wireless gateway router, is the router which directly connected to Internet through a DSL or Cable Modem. There is no special requirement for this router. Any router can act as gateway router. This router can run in default access point mode. Enable DHCP server on this router, configure in a 192.168.1.X subnet and leases DHCP address in the same pool. This router will be the only router with DHCP server in entire network.  Setup the security. Note the SSID and Security key. Secondary router will connect to this router using same SSID.
Step II :  Setup secondary dd-wrt router
Secondary router will act as a repeater for wireless and LAN clients. It will replay wireless signal to and from its clients to the primary gateway router.
First reset the router to factory defaults. Go to the router admin page. Disable the DHCP server on Setup,Basic Setup page as shown in the image below .
On the Setup,Basic Setup page,choose a IP address for the router.  Assuming that gateway router IP address is 192.168.1.1 give this router IP address 192.168.1.2. Enter gateway and LOcal DNS as 192.168.1.1. Select save settings.
Because IP address has changed in the previous step, log on to the router using its new IP address 192.168.1.2.
On the Wireless,Basic Settings page, select Wireless Mode:Repeater Bridge,Wireless network mode:Mixed,SSID(same as main router ssid),Network Configuration:Bridged. Select Save. In the virtual interface click on add. Enter wireless network name  same as the main router ssid. Enable SSID broadcast, network configuration bridged. Save,Apply Settings.
Go to Security Firewall, Uncheck all boxes,except Filter Multicast. Disable SPI firewall and Save, Apply Settings.
Go to Wireless,Wireless Security . Enter the security mode and security key. The security mode and security key must match security mode and security key of the gateway router. Select Save Settings. Similarly enable security on virtual interface. Select security and security mode same as main interface. Keeping this same helps in roaming.
Your wireless repeater bridge connection now must be all set. Check the signal connection by going to Status,Wireless page.