Flashing dd-wrt on Linksys wrt-54g router
DD-WRT is open source firmware which supports many of the features not available on Linksys, Netgear, D-link, Belkin and many other routers.
This article contains step by step guide on how to install dd-wrt firmware on wrt54g or any other dd-wrt supported wireless router.
DD-WRT  firmware supports special features like wireless bridging, wireless distribution system, wireless repeater , wireless access point, remote wake up on LAN and many other cool features. These features are not available on factory supplied firmware for the routers.
Go to http://www.connectedhome.infopint.com/dd-wrt-capable-wireless-routers for list of good quality wireless routers capable of running dd-wrt firmware. 
 Installation of the dd-wrt firmware is fairly easy. Make sure that you have one of these or other dd-wrt  capable router.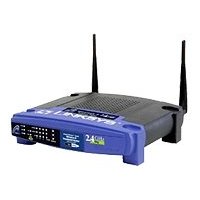 Step I: Download  dd-wrt firmware
First of all make sure that your router is in working condition and you are able to log to its admin page using a web browser. Note down the router  model and version number. My router model number is wrt-54g and version number is V2.  Now go to dd-wrt hardware support page and enter few letter of router number.
I typed wrt54g and selected version number of the  router to go to the following download page for wrt54g router. From this page download firmwares for the router. Download dd-wrt-mini and dd-wrt-std-generic firmwares.  Note the amount of flash available on the device if its  2MB then also download _micro version of the firmware.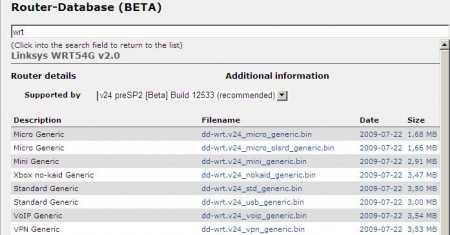 Step II: Prepare router of installation
Log into to your router admin page through web interface, reset the router to factory defaults. On wrt-54g or Linksys routers reset factory defaults in located on administration page. Select reset to factory default and click on save settings. Alternatively use the reset button to reset the router to factory default.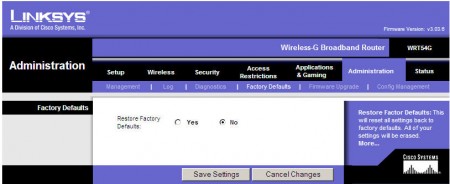 After the reset login to routers admin page using default user name and password. For linksys routers default user name and password is admin/admin.
Step III: Install the mini firmware
In the step I we have downloaded two dd-wrt firmware. We will have to install the mini firmware first followed by installation of the standard firmware. Log in the router using web browser by typing in default IP address of 192.168.1.1 , go to Administration, Firmware  Upgrade Tab.  Browse and select the mini firmware file "dd-wrt.v24_mini_generic.bin". Click the upgrade button.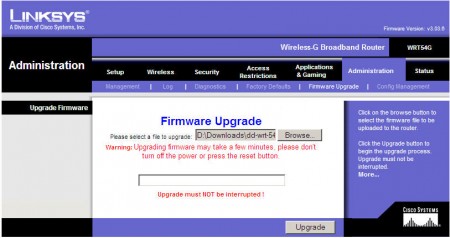 After upgrade process is dd-wrt mini firmware is installed on the router. Reset the router by removing the power and putting it back. Log in the router using ip address 192.168.1.1. The default dd-wrt user name and password is root/admin.
Step IV: Install dd-wrt standrad firmware
Logon the browser by typing 192.168.1.1 and root/admin user name/password combination. Go to Administration, Firmware Upgrade page. Using Browse button select the standard firmware "dd-wrt.v24_std_generic.bin".  Also select reset to default settings after upgrade and click the upgrade button.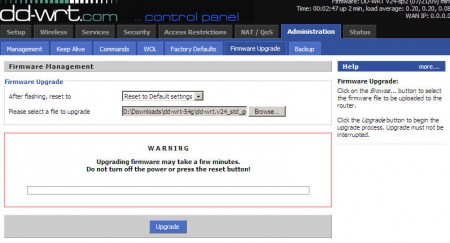 After firmware installation is complete hard reset the router.  Log on to the router 192.168.1.1 IP address,using root and admin user name and password respectively. Router is now read to use enjoy.