Dlink NAS (DNS-320/323), Standard to RAID configuration
I have a DNS-320 NAS. It came with a 2TB HDD. Initially I had set the single HDD, in Standard configuration. I decided to add redundancy to  my data by adding another hard drive. I wanted to convert a single drive standard configuration to two drive RAID 1 configuration,  without formatting and losing data on the first drive. DLink DNS-320 manual does not contain clear information on how to accomplish this. I figured this out hard way by doing it.
Warning!!! You can count on the reliability of the information on this site , but you must backup important data, just in case anything goes wrong.
Follow the steps below to add the new hard drive and convert the standard configuration to RAID1. Before starting make sure that you have the latest firmware. I updated by NAS to 2.02 firmware. After these step are completed I had a RAID1 configuration of two 2Tb HDDs, giving me total usable space of 2GB. If one of the disks fails in this configuration, I will be easily able to replace it without losing any data.
1. Shutdown your DNS-320/DNS-323 and insert a new unformatted hard drive.
2. Power up the DNS-320 and Open the admin url on the browser.
3. Select format new drive as standard type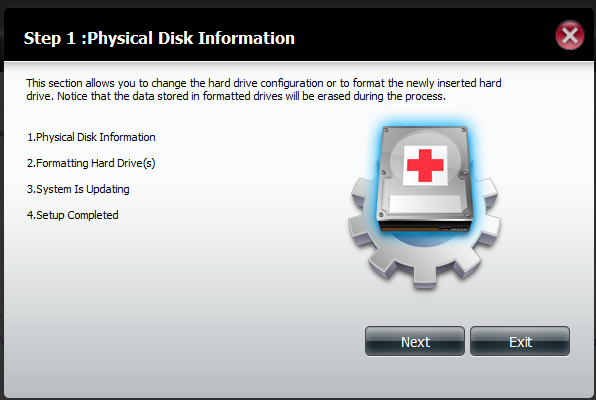 4. Select Reconfigure to Raid 1, next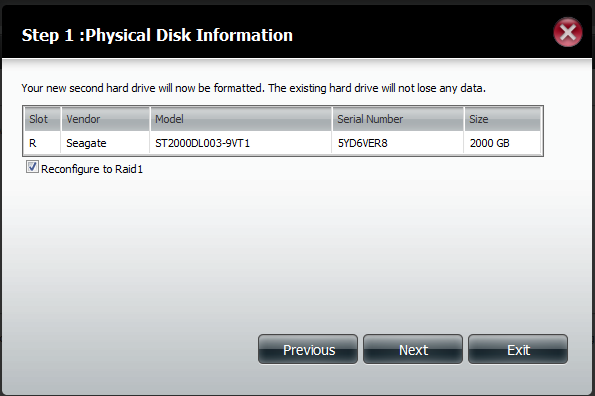 5. Optional, Enable auto-rebuild
6. Progress