What is Connected Home Network
Connected Home is a  network of variety of devices connected to each other. These devices connect through different or same medium and have different capabilities. Connected devices can share  video, pictures, music and files and take advantage of each others  capabilities.
For example a typical household has one or more TVs, a Cable or Satellite Set top Box, Gaming machines (XBOX,PS3,Wii etc), portable gaming machines (PSP, GameCube etc),Desktop Computers, Notebook Computers, Cellphones etc. Many homes have Network Access Storage and Network Printers. In a connected home all of these devices are linked together to form a network of devices.
Different devices connect using different media. Some devices connect through wired network( Ethernet), some connect through wireless medium (Wifi).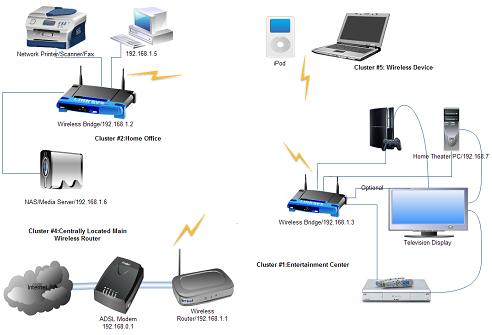 Click above to see full size image.
Each gadget has a primary functionality in the connected home. Gadgets also can perform a secondary role. For example XBOX, PS3 are primarily gaming machines, but they can also store media and act as media player clients for remote servers.  TV is  primarily a  display device and provide rich viewing experience,  but can also act as media client and can play media streams from other connected devices.
In the Connected Home devices share data, media with each other. They benefit from each others capabilities. Connected Home also makes Internet connection available to every device within home.
For example its better to watch a  High Definition Video, which is stored on a PC /NAS Hard drive on a big screen TV rather then on smaller computer monitor screen.  Also its nice to grab data files from your PC and carry it with you in your iPhone or a Notebook Computer.
There are 100s of  other reason why do you want to setup a Connected Home Network.
This site is dedicated to providing information on all topics related to home networking. We will show you how to connect everything in home to form a  Connected Home. Each subject is covered with easy to understand  sample home networks.
Lets start with an example home network of following devices. You may have different set of devices but once Connected Home infrastructure is set you can add many wired or wireless devices.
PS3
Xbox
Dish Network DVR Box
Home Theater PC.
Desktop PC
Notebook PC (Laptop)
iPhone/iPod/Blackberry
Other WIFI enabled portable devices.
NAS (Network Attached Storage)
Network Printer
Sony LCD TV
DSL Modem(Cable Modem)
Wireless Router
The home network is combination of wired and wireless connections and the devices listed above are spread across multiple rooms.
The picture above demonstrates a home network with devices in multiple rooms connected to each using router to router wireless link. Picture belows shows the same home network using Homeplug AV Power-line Ethernet adapters.
Now we now know what we are trying to accomplish in our home network. Lets move on the next step where we decide network Architecture for our project.